by David Lehman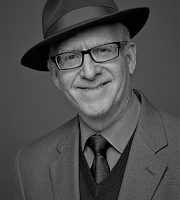 This bed thy center is, these walls, thy sphere,
The tarnished, gaudy, wonderful old work
Of hand, of foot, of lip, of eye, of brow,
That never touch with inarticulate pang
Those dying generations-at their song.
The One remains, the many change and pass
The expiring swan, and as he sings he dies.
The earth, the stars, the light, the day, the skies,
A white-haired shadow roaming like a dream
Limitless out of the dusk, out of the cedars and pines,
Think not of them, thou hast thy music too-
Sin and her shadow Death, and Misery,
If but some vengeful god would call to me,
Because I could not stop for Death,
Not to return. Earth's the right place for love.
My playmate, when we both were clothed alike,
Should I, after tea and cakes and ices,
Suffer my genial spirits to decay
Upon the bridal day, which is not long?
I thought that love would last forever; I was wrong.
Last updated May 02, 2015