by Dennis Nurkse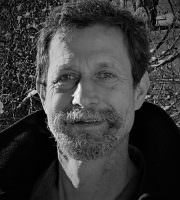 I cradled my newborn daughter
and felt the heartbeat
pull me out of shock.
She didn't know
what her hands were:
she folded them. I asked her
was there a place
where there was no world.
She didn't know
what a voice was: her lips
were the shape of a nipple.
2
In the park the child says:
watch me. It will not count
unless you see. And she shows me
the cartwheel, the skip, the tumble,
the tricks performed at leisure in midair,
each unknown until it is finished.
At home she orders:
see me eat. I watch her
curl on herself, sleep;
as I try to leave the dark room
her dreaming voice commands me: watch.
3
Always we passed the seesaw
on the way to the swings
but tonight I remember
the principle of the lever,
I sit the child at one end,
I sit near the center,
the fulcrum, at once she has power
to lift me off the earth
and keep me suspended
by her tiny weight, she laughing,
I stunned at the power of the formula.
Copyright ©:
Dennis Nurkse
Last updated December 21, 2022