by Diana Goetsch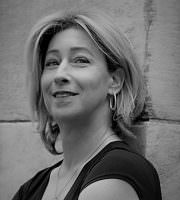 At 12 Richard Perry came from California
to throw a football way further than anyone
on the block. If that's the kind of thing
you admire — and we did — you could also
admire other things about him, even his stutter,
which manifested in the huddle when he drew
plays on his man-sized palms, his intelligent eyes
signaling some clever maneuver moments
before the words for it emerged, creating
a kind of charmed suspense, while the defense
waited hands on hips. I was his favorite receiver,
always going long, all through the fall, winter,
into spring, where one day, after several
blinks, Richard stated the following:
"Love songs are the best songs there are."
Four 12-year-olds looked at each other, then back at
Richard, who broke the huddle without a play.
Later we would find out he had a girl —
Regina Eiselstein, from the other side
of the highway — and though his assertion
about love songs seemed way out of line,
isn't it always the case with that kind of feeling,
that you have to tell everyone? Personally
I found love songs boring and stupid, like
watching my parents play bridge, but that
was also his point: to tell us something
we couldn't know. And I wish now I could
have surrendered to something the way
Richard Perry gave it up completely,
something I didn't do at age 12 or 20
or even 40. I've never shocked anyone
with a confession that strange and tender,
stuttered without embarrassment because
he had love, he had Regina and a song
in his head that he knew was worth more
than his rocket arm which could launch
footballs into the sky. And in case you haven't
figured it out this is all about you.
You, Julie, spiraling into my arms
like a pass that's been traveling 30 years,
like a song I can finally hear.
Copyright ©:
Diana Goetsch
Last updated November 30, 2022