by Diane Fahey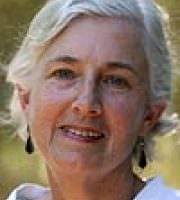 A northwesterly holds sway on this
hottest day for years, sand ghosting the damp verge,
a gritty coating on oiled skin. I look out
past shirred crystal to leaf-green, cerulean;
wade in, wanting to be braced by chill pressures,
till the breakers I stand beyond arch back —
sudden tears from parched blue. Salt in my eyes,
I swim where waves turn towards the river.
Nothing for it but to lie in these
liquid inches, as if earthed in ocean,
the sun dangerous on eyelids, my weight
erasing sand ripples. Here I stay,
swathed by gold, letting thoughts evaporate,
thirsting for fresh beginnings.
From:
Sea wall and river light
Last updated January 14, 2019