by Diane Fahey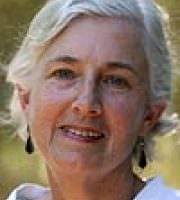 The Koorie clans who dwelt in the Barwon Heads region belonged to the Wathaurong language group. A large stone-paved area beside the Barwon Heads bridge, honours them and configures the surrounding land forms and seascape.
 
I sing for the black and the people of this land
I'm singing for the red and the blood that's been shed
Now I'm singing for the gold and a new year young and old.
— 'Yil Lull', Marcia Howard
Summer and autumn have mingled, gone their
separate ways. On a chill Sunday morning
we gaze at black, ochre and red stonework:
spit and estuary in miniature,
a swirl of whale, eel and mulloway
over the floor of this gathering place.
Far, it seems, from incalculable harm,
we sit on planed eucalypt to hear these words:
The earth is our mother, the river heals us.
Some prayers, Marcia gives us a song;
the children are still, with dreaming eyes.
In this small town, a beginning. The tide edge
floods with clouds which vanish into sand,
are remade, mirror-clear.
From:
Sea wall and river light
Last updated January 14, 2019