by Diane Wakoski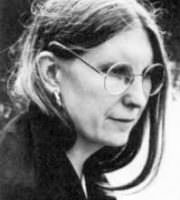 Can these movements which move themselves
be the substance of my attraction?
Where does this thin green silk come from that covers my body?
Surely any woman wearing such fabrics
would move her body just to feel them touching every part of her.
Yet most of the women frown, or look away, or laugh stiffly.
They are afraid of these materials and these movements
in some way.
The psychologists would say they are afraid of themselves, somehow.
Perhaps awakening too much desire—
that their men could never satisfy?
So they keep themselves laced and buttoned and made up
in hopes that the framework will keep them stiff enough not to feel
the whole register.
In hopes that they will not have to experience that unquenchable
desire for rhythm and contact.
If a snake glided across this floor
most of them would faint or shrink away.
Yet that movement could be their own.
That smooth movement frightens them—
awakening ancestors and relatives to the tips of the arms and toes.
So my bare feet
and my thin green silks
my bells and finger cymbals
offend them—frighten their old-young bodies.
While the men simper and leer—
glad for the vicarious experience and exercise.
They do not realize how I scorn them;
or how I dance for their frightened,
unawakened, sweet
women.
Last updated May 24, 2019