by Dorothy Wellesley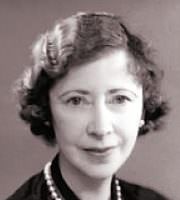 There is some delight in bombing an Enemy
Whom all mankind must hate.
There is some foresight in reading the Tarot card
These years ago over an adversary.
5 There is splendour in the pride and fury of the pard.
But now the hour is late,
We must fold up the chess-board,
And set the cards aside,
For now stand up the spectres of eventide.
10 What are these forms in Flanders I behold
From Ypres and from the Saar?
What is this clanking of young bones, now old?
Why do the stars shudder
As never shuddered a star?
15 It is because the bombs are opening the cemeteries.
As at the twilight of the Crucifixion
The tombs shall open and give forth their dead
Of those who died for liberty, in their affliction.
They shall be bombed once more,
20 Wake from the only sleep that man can gain.
Millions of men are risen of the slain,
Who remember maybe the ships only,
The dusk, the lights along the English shore.
They shall rise out of earth,
25 Most trusty of their worth,
Their spiritual power most infinite and plain
Who asked no profit from their death
And from the rich no gain.
They rise most wise with shining eyes
30 Who begged no gold for pain.
With unperturbed faith
They rise from earth
Who have no more to lose, nothing to gain.
Their childhood passed like sunlight
35 Through the April-beaten rain.
Unhappy Enemy, the ghosts of the young
Are terrible to see
Who come, roused up from their last sleep
To meet again with broken bone
40 The harried hunted mind of man with soul of stone,
Their unpitying hearts withered completely away.
The dark comes down, it is the end of day,
Hark to the hosts of ghosts
Of unapparent tread
45 Who have been called too early from their bed.
Kill off the living, Enemy!
For you have raised the dead.
They come with clanging sound, and phosphorescent eyes,
With the worm that never dies,
50 They rise, they rise, who care no more for pain!
Pale Enemy, hail!
The nations are bombing the cemeteries of the slain.
Last updated September 13, 2017