by Ed Bok Lee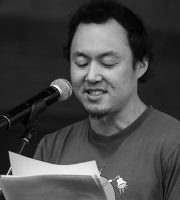 I was wrestling with a poem
while in a far room she was crying.
I'd been sweating to get it to sing
or speak eloquently, at least exorcize the animus from our deeply lodged insanity.
Meanwhile, in her far room, Babygirl would not go back down.
I needed personally to hear through the poem
what future humans will believe in the next few millennia
of horror, tenderness, genocide, altruism, capacity for deceit, of beauty—
I didn't understand that she was already openly translating,
while the poem I hunched over lay comatose.
Our policy: wait five to ten minutes before going in.
Often, after a final, hawk-like screech, she'd fall quiet, until I could breathe again.
But on this night, the longer she wailed, the more deaths shed from me,
until finally at the risk of waking her forever
I rose and walked into the dark corner of our galaxy
where a deeper belief in the brightness of human souls
was now livid in its demand for a new kind of poetry.
Last updated May 31, 2019