by Ehsan Sehgal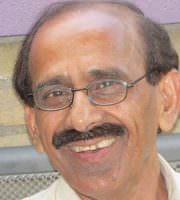 I went everywhere to search the God,
Even in the worship places,
And in the old and modern cities,
But I could not find the God
When I came to know that
God exists near to the aorta,
I felt and tried to find and look,
But no any sign of the visibility
One day I was walking on the streets.
I saw at the corner of the street,
A father and a mother sitting
With their two childs
A girl and a boy on the ground,
Wearing cracked old clothes.
Many people were passing near them,
But no one was paying attention.
I walked towards them,
They all looked me with full of wonder,
And some hope
I put my hand into my coat pocket
And brought out all the coins I had
And gave to them
They looked at the coins and then to tell me
With cheerful smiling; God bless you,
They all stood and went towards
The shop buying some food
I felt like my whole body lightened,
The smiling of them
Gave me the great impression of the God,
I was becoming
The real human that God created.
Last updated July 09, 2015