by Marcus B. Christian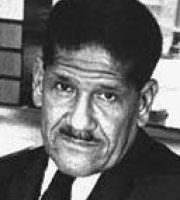 The dice of God are always loaded
-- Emerson
God is a black man throwing dice,
While His partner is yellow Time,
And the scores are marked upon melting ice;
On His knees, in the dust and grime
Of the road that leads to Eternity,
Where the races of men go by,
Like a black man dreaming, He shakes them free
And flings them forth with a sigh.
God is a black man throwing dice
And each man is given his day
At throwing them once -- but never twice --
For each must be on his way.
Each time the galloping squares are thrown
The scores on the wet ice climb;
But before they stop and the spots are known,
"Fade you!" cries small, yellow Time.
Last updated November 13, 2022