by Terrance Hayes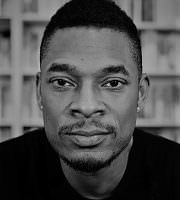 When I consider the much discussed dilemma
of the African-American, I think not of the diasporic
middle passing, unchained, juke, jock, and jiving
sons and daughters of what sleek dashikied poets
and tether fisted Nationalists commonly call Mother
Africa, but of an ex-girlfriend who was the child
of a black-skinned Ghanaian beauty and Jewish-
American, globetrotting ethnomusicologist.
I forgot all my father's warnings about meeting women
at bus stops (which is the way he met my mother)
when I met her waiting for the rush hour bus in October
because I have always been a sucker for deep blue denim
and Afros and because she spoke so slowly
when she asked the time. I wrote my phone number
in the back of the book of poems I had and said
something like "You can return it when I see you again"
which has to be one of my top two or three best
pickup lines ever. If you have ever gotten lucky
on a first date you can guess what followed: her smile
twizzling above a tight black v-neck sweater, chatter
on my velvet couch and then the two of us wearing nothing
but shoes. When I think of African-American rituals
of love, I think not of young, made-up unwed mothers
who seek warmth in the arms of any brother
with arms because they never knew their fathers
(though that could describe my mother), but of that girl
and me in the basement of her father's four story Victorian
making love among the fresh blood and axe
and chicken feathers left after the Thanksgiving slaughter
executed by a 3-D witchdoctor houseguest (his face
was starred by tribal markings) and her ruddy American
poppa while drums drummed upstairs from his hi-fi woofers
because that's the closest I've ever come to anything
remotely ritualistic or African, for that matter.
We were quiet enough to hear their chatter
between the drums and the scraping of their chairs
at the table above us and the footsteps of anyone
approaching the basement door and it made
our business sweeter, though I'll admit I wondered
if I'd be cursed for making love under her father's nose
or if the witchdoctor would sense us and then cast a spell.
I have been cursed, broken hearted, stunned, frightened
and bewildered, but when I consider the African-American
I think not of the tek nines of my generation deployed
by madness or that we were assigned some lousy fate
when God prescribed job titles at the beginning of Time
or that we were too dumb to run the other way
when we saw the wide white sails of the ships
since given the absurd history of the world, everyone
is a descendant of slaves (which makes me wonder
if outrunning your captors is not the real meaning of Race?).
I think of the girl's bark colored, bi-continental nipples
when I consider the African-American.
I think of a string of people connected one to another
and including the two of us there in the basement
linked by a hyphen filled with blood;
linked by a blood filled baton in one great historical relay.
Last updated November 10, 2022