by Eliza Acton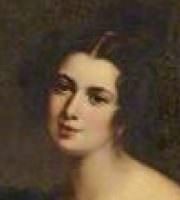 When the day-dreams which brighten'd the dawning of life
Have vanish'd, like gems of the morning away;
And Hope's fairy wreath, which with promise was rife,
Lies wither'd beneath the cold touch of decay;
The magic of memory's soft-breathing spell
Shall re-kindle the glow of the visions, and flowers,
And though youth's laughing witcheries whisper farewell,
Their light, and their loveliness, yet shall be ours !
The sweetness of Joy's silver smile may depart,
And sadness may darken, where warmly it play'd,
But its sunshine again will steal over the heart,
When the ray of remembrance hath sever'd the shade.
From the fountain of years that are fled, my lov'd friend,
May the pure cup of Happiness sparkle for thee;
And in future ones oft o'er this page may'st thou bend,
With feelings, and thoughts, rich in kindness for me!
Last updated January 14, 2019