by Eugene Field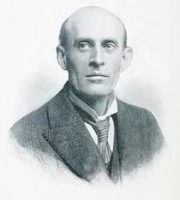 Speaking of banks, I'm bound to say
That a bank of tin is far the best,
And I know of one that has stood for years
In a pleasant home away out west.
It has stood for years on the mantelpiece
Between the clock and the Wedgwood plate--
A wonderful bank, as you'll concede
When you've heard the things I'll now relate.
This bank was made of McKinley tin,
Well soldered up at sides and back;
But it didn't resemble tin at all,
For they'd painted it over an iron black.
And that it really was a bank
'Twas an easy thing to see and say,
For above the door in gorgeous red
Appeared the letters B-A-N-K!
The bank had been so well devised
And wrought so cunningly that when
You put your money in at the hole
It couldn't get out of that hole again!
Somewhere about that stanch, snug thing
A secret spring was hid away,
But _where_ it was or _how it_ worked--
Excuse me, please, but I will not say.
Thither, with dimpled cheeks aglow,
Came pretty children oftentimes,
And, standing up on stool or chair,
Put in their divers pence and dimes.
Once Uncle Hank came home from town
After a cycle of grand events,
And put in a round, blue, ivory thing,
He said was good for 50 cents!
The bank went clinkety-clinkety-clink,
And larger grew the precious sum
Which grandma said she hoped would prove
A gracious boon to heathendom!
But there were those--I call no names--
Who did not fancy any plan
That did not in some wise involve
The candy and banana man.
Listen; once when the wind went "Yooooooo!"
And the raven croaked in the tangled tarn--
When, with a wail, the screech-owl flew
Out of her lair in the haunted barn--
There came three burglars down the road--
Three burglars skilled in arts of sin,
And they cried: "What's this? Aha! Oho!"
And straightway tackled the bank of tin.
They burgled from half-past ten p.m.,
Till the village bell struck four o'clock;
They hunted and searched and guessed and tried--
But the little tin bank would not unlock!
They couldn't discover the secret spring!
So, when the barn-yard rooster crowed,
They up with their tools and stole away
With the bitter remark that they'd be blowed!
Next morning came a sweet-faced child
And reached her dimpled hand to take
A nickel to send to the heathen poor
And a nickel to spend for her stomach's sake.
She pressed the hidden secret spring,
And lo! the bank flew open then
With a cheery creak that seemed to say:
"I'm glad to see you; come again!"
If you were I, and if I were you,
What would we keep our money in?
In a downtown bank of British steel,
Or an at-home bank of McKinley tin?
Some want silver and some want gold,
But the little tin bank that wants the two
And is run on the double standard plan--
Why, that is the bank for me and you!
Last updated January 14, 2019