by Eugene Field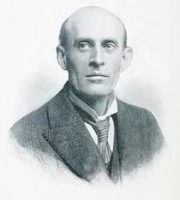 All human joys are swift of wing
For heaven doth so allot it
That when you get an easy thing
You find you haven't got it.
Man never yet has loved a maid,
But they were sure to part, sir;
Nor never lacked a paltry spade
But that he drew a heart, sir!
Go, Chauncey! it is plain as day
You much prefer a dinner
To walking straight in wisdom's way--
Go to, thou babbling sinner.
The froward part that you have played
To me this lesson teaches:
To trust no man whose stock in trade
Is after-dinner speeches.
Last updated January 14, 2019