by Washington Allston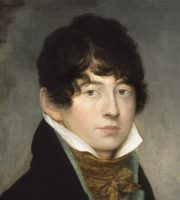 Ah me! how hard the task to bear
The weight of ills we know!
But harder still to dry the tear,
That mourns a nameless we.
If by the side of Lucy's wheel
I sit to see her spin,
My head around begins to reel,
My heart to beat within.
Or when on harvest holliday
I lead the dance along,
If Lucy chance to cross my way,
So sure she leads me wrong,
If I attempt the pipe to play,
And catch my Lucy's eye,
The trembling musick dies away,
And melts into a sigh.
Where'er I go, where'er I turn,
If Lucy there be found,
I seem to shiver, yet I burn,
My head goes swimming round.
I cannot bear to see her smile,
Unless she smile on me;
And if she frown, I sigh the while,
But know not whence it be.
Ah, what have I to Lucy done
To cause me so much stir?
From rising to the setting sun
I sigh, and think of her.
In vain I strive to join the throng
In social mirth and ease;
Now lonely woods I stray among,
For only woods can please.
Ah, me! this restless heart I fear
Will never be at rest,
'Till Lucy cease to live, or tear
Her image from my breast.
Last updated May 31, 2019