by Gabriel Ojeda-Sagué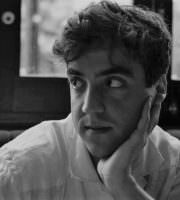 Obsessed with
how long it takes
for a glacier to melt
or a movie to end.
Taste of cream soda
all I think about
in the afternoons.
You pass a finger between
one tattoo and another,
find that I cannot make amends
with every copper thread between my ears.
I believe too much in spinning around.
I plant matches and pray for a forest.
When I am a creature soaked,
ride on my back,
ride on my back.
From:
Madness, Nightboat Books, 2022
Copyright ©:
2022, Gabriel Ojeda-Sagué
Last updated July 25, 2022