by Gary Soto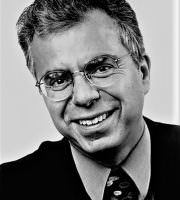 Because there are avenues
Of traffic lights, a phone book
Of brothers and lawyers,
Why should you think your purse
Will not be tugged from your arm
Or the screen door
Will remain latched
Against the man
Who hugs and kisses
His pillow
In the corridor of loneliness ?
There is a window of light
A sprinkler turning
As the earth turns,
And you do not think of the hills
And of the splintered wrists it takes
To give you
The heat rising toward the ceiling.
You expect your daughter
To be at the door any moment
And your husband to arrive
With the night
That is suddenly all around.
You expect the stove to burst
A collar of fire
When you want it,
The siamese cats
To move against your legs, purring.
But remember this :
Because blood revolves from one lung to the next,
Why think it will
After tonight ?
Last updated August 19, 2022