by Geoff Page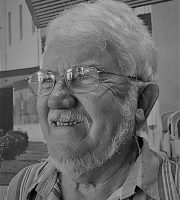 Two days beyond the Last Post dawn
The khaki streets and brass at ten
These plastic wreaths survive,
Apex, Lions and Rotary, courtesy the florist---
Also a bunch of dahlias
Dilute-yellow and a shoebox card
Filled carefully in biro.
In loving memory of my brothers
Pte. K.L.McK---, Lone Pine 1915
Pte. T.K.McK---, France 1917
Pte. P.L.McK---, France 1918
Gnr. S.L.McK---, 1st A.I.F.
Old man in a kitchen. 4 a.m.
One bare bulb above his head.
Scissors, string, a mug with steam
And flowers dew-wet across the table.
He finds the words again.
And somewhere just beyond them still
Four boys run in a steel-grey paddock
Headlong for the wire.
Last updated February 22, 2023