by George Oppen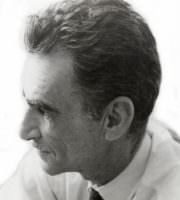 The householder issuing to the street
Is adrift a moment in that ice stiff
Exterior. 'Peninsula
Low lying in the bay
And wooded-' Native now
Are the welder and the welder's arc
In the subway's iron circuits:
We have not escaped each other,
Not in the forest, not here. The crippled girl hobbles
Painfully in the new depths
Of the subway, and painfully
We shift our eyes. The bare rails
And black walls contain
Labor before her birth, her twisted
Precarious birth and the men
Laborious, burly-She sits
Quiet, her eyes still. Slowly,
Deliberately she sees
An anchor's blunt fluke sink
Thru coins and coin machines,
The ancient iron and the voltage
In the iron beneath us in the child's deep
Harbors into harbor sand.
Last updated January 14, 2019