by Helen Maria Williams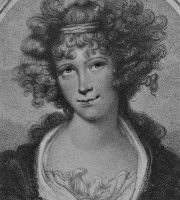 BELOW HIS PICTURE, WHICH
A FELLOW-PRISONER HAD DRAWN, AND WHICH
HE SENT TO HIS WIFE AND CHILDREN THE
DAY BEFORE HIS EXECUTION.-1794.
Lov'd objects! cease to wonder when ye trace
The melancholy air that clouds my face;
Ah! while the Painter's skill this image drew,
They rear'd the Scaffold, and I thought of you!
Last updated November 04, 2022