by Henry Alford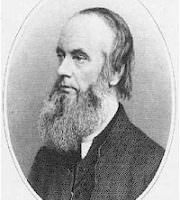 Children of your Father's love,
Children of your God above,
See the Cross, whereon portrayed
All your duties are displayed.
Alice, eldest born and first,
Babe with love peculiar nurst,
Founded deep and builded high
On the Rock of Calvary,
Ever on that holy ground
At the Cross's foot be found;
Be in love and duty best,
As their shaft, support the rest.
Mary, may thy thoughts aspire
Up to Heaven with holy fire;
In thy childhood mindful be
Of the Head that bowed for thee.
When He bowed His sacred Head,
Three remained, though all had fled:
Three who bore thy blessed name;
Be thy faith and love the same.
Ambrose, dear immortal boy,
Child of simple mirth and joy,
Be through life, however tried,
Ever at thy Saviour's side.
Safe in danger, pure from ill,
May His Hand support thee still;
In That Day, with glory crowned,
On His right hand be thou found.
Clement, peaceful, holy child,
As thy name is, meek and mild,
Wearing fresh for all to see
Thy Baptismal purity,--
Little one, thy Saviour's breast
Holds thee, gently, fondly prest;
Whatsoe'er He may decree,
Still His arm shall shelter thee.
Father, Mother, Children,--all,
Be we ready at His call:
His, to suffer or to do,--
Warm in love, in duty true.
Last updated April 19, 2018