by Hervey Allen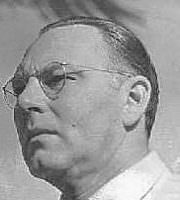 Deep in the mystery of the woodland's gloom,
Topping the sea of trees with pointed cone,
So that from many hills its towers loom,
The old château of Beaumont stands alone.
This generation saw its last sons go
To spill their noble blood with humbler men;
So Madame lives alone at the château
And waits for steps that never come again.
The sunlight sleeps along the buttressed walls,
And on the stagnant moats the midges dance,
And in the haunted wood the cuckoo calls,
Where hunted once the vanished kings of France.
The terraced gardens hum with greedy bees,
And Madame walks among the orange trees.
Boxed orange shrubs — they stand in potted row
Along the plaisance — Madame takes her ease;
But it is lonely at the old château;
The milky statues glimmer through the trees,
So silent, too! What can make Madame start?
Down in the garden where late roses blow,
She has heard laughter there that stopt her heart
Like echoes from old summers long ago.
But no — it cannot be! For hark! the click
Of little peasants' sabots; down the walk
That winds among the rows of hedges thick,
The children's voices die away in talk.
Alas! Who knows, who knows,
Why Madame bends so long above the rose?
Gently, old heart — there is no recompense
For the last uttermost you had to give.
Yet there is peace for you to outward sense —
God gives you Beaumont as a place to live.
The white herds graze in stately indolence,
While you sit knitting on the terrace there,
And that your hands still feel no impotence,
Witness the poor and Croix Rouge at St. Pierre;
And sweet the drive home through the wooded park,
When faintly chime the far-off steeple clocks
At dusk when village dogs begin to bark,
And the long lanes go glimmering white with flocks,
When the first, steely stars begin to peep
And the young shepherd whistles to his sheep.
Last updated September 05, 2017