by Hilda Doolittle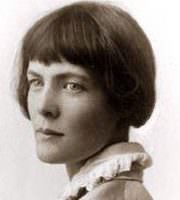 Ah, bird,
our love is never spent
with your clear note,
nor satiate our soul;
not song, not wail, not hurt,
but just a call summons us
with its simple top-note
and soft fall;
not to some rarer heaven
of lilies over-tall,
nor tuberose set against
some sun-lit wall,
but to a gracious
cedar-palace hall;
not marble set with purple
hung with roses and tall
sweet lilies--such
as the nightingale
would summon for us
with her wail--
(surely only unhappiness
could thrill
such a rich madrigal!)
not she, the nightingale
can fill our souls
with such a wistful joy as this:
nor, bird, so sweet
was ever a swallow note--
not hers, so perfect
with the wing of lazuli
and bright breast--
nor yet the oriole
filling with melody
from her fiery throat
some island-orchard
in a purple sea.
Ah dear, ah gentle bird,
you spread warm length
of crimson wool
and tinted woven stuff
for us to rest upon,
nor numb with ecstasy
nor drown with death:
only you soothe, make still
the throbbing of our brain:
so through her forest trees,
when all her hope was gone
and all her pain,
Calypso heard your call--
across the gathering drift
of burning cedar-wood,
across the low-set bed
of wandering parsley and violet,
when all her hope was dead.
Last updated August 29, 2017