by Ingeborg Bachmann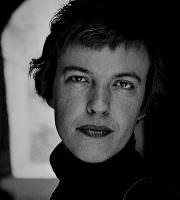 Big bear, come down shaggy night,
cloudfur animal with the old eyes,
starry eyes,
break through the thicket shimmering
your paws with the claws,
starclaws,
watchful we keep the herds,
yet spellbound by you, and distrust
your weary flanks and the sharp ones
half bare teeth,
old bear.
A cone: your world.
Her: the scales on it.
I drive her roll her
from the firs in the beginning
to the firs at the end,
snort them, test them in the mouth
and grab it with your paws.
Fear or fear not!
Pay into the collection bag and give
a kind word to the blind man
that he keeps the bear on a leash.
And season the lambs well.
s' can be that this bear
breaks loose no longer threatens
and chasing all the cones that come from the firs
have fallen, the great, winged,
who fell out of paradise
Last updated October 31, 2022