by Irma Kurti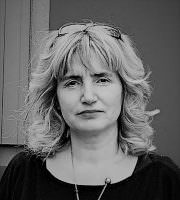 In the green park where you walked,
the emotion overwhelms me, like a
hurricane. The many tulips I see there,
their beauty kills my soul.
For hours you would have watched them.
In a hushed tone you would have told me,
"I'll take a picture of them,"
with a camera in your hands.
You would have admired the colors
and would have said, "They're so nice!"
I can no longer contemplate them
because these tulips make me suffer.
Now that you're no longer with me . . .
Last updated September 30, 2022