by Irwin Russell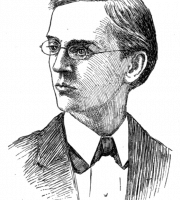 Muster thy wit, and talk of whatsoever
Light, mirth-provoking matter thou canst find:
I laugh, and own that thou, with small endeavor,
Hast won my mind.
Be silent if thou wilt; thine eyes expressing
Thy thoughts and feelings, lift them up to mine:
Then quickly thou shalt hear me, love, confessing
My heart is thine.
And let that brilliant glance become but tender—
Return me heart for heart—then take the whole
Of all that yet is left me to surrender:
Thou hast my soul.
Now, when the three are fast in thy possession,
And thou hast paid me back their worth, and more,
I'll tell thee—all whereof I've made thee cession
Was thine before.
Last updated January 14, 2019