by Irwin Russell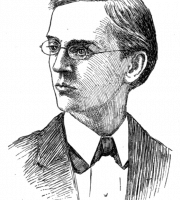 I STAND within this solemn place
And think of days gone by;
I think of many an old-time face;
Here's where those faces lie.
I think of when, what time God please,
The hour shall come to me,
That, covered by the clay, like these,
My face shall masked be.
No marble monument will rise
Above that grave of mine;
No loving friends will wipe their eyes
When life I shall resign.
But when I leave my life—have left
My every present care—
I'll find a home of care bereft;
My friends are living there!
Last updated January 14, 2019