by James McAuley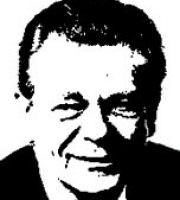 Another office now the loud-voiced choir
Shall to the altered day's declining sing:
Not those Sicilian vespers of desire
That nightly murder of love's image bring.
Women from the Arabian Nights, that wore
The sunlight and the moonlight as a dress,
Go by in rags and charm the king no more,
Defeated by a natural caress.
Your virgin hand, O love, has stripped my days
Of dreams too sodden-rich to live in air:
Look, where the nudity of sight displays
The wealth of nations in a stranded hair!
I with the light prepare my long descent;
The early moon still pale before the sun
Prefigures the white arms of your consent
And toward the chancelled dark our shadows run.
Under the stained-glass azure like a sigh
Fern-odours stray from the voluptuous hill
With intimations that the night is nigh,
When the stars flimmer and the bough is still.
Therefore another office shall the choir
To the transfigured day's declining sing,
Now while the heaven that blesses my desire
Is blue as the beetle's dark translucent wing.
From:
Collected Poems 1936-1970
Last updated January 14, 2019