by James Whitcomb Riley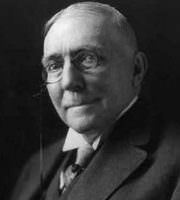 "tired out!" Yet face and brow
Do not look aweary now,
And the eyelids lie like two
Pure, white rose-leaves washed with dew.
Was her life so hard a task?--
Strange that we forget to ask
What the lips now dumb for aye
Could have told us yesterday!
"Tired out!" A faded scrawl
Pinned upon the ragged shawl--
Nothing else to leave a clue
Even of a friend or two,
Who might come to fold the hands,
Or smooth back the dripping strands
Of her tresses, or to wet
Them anew with fond regret.
"Tired out!" We can but guess
Of her little happiness--
Long ago, in some fair land,
When a lover held her hand
In the dream that frees us all,
Soon or later, from its thrall--
Be it either false or true,
We, at last, must tire, too.
Last updated January 14, 2019