by Jasmine Reid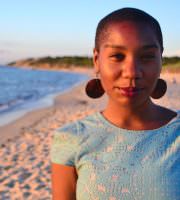 Go towards starshine
& meet me at dusk.
Tell me how blue you black
this body, this whole
coliseum of dust.
Take my stilled battlefield,
pounding rain over bruises, pulsing.
Now a field of heartbeats. Open
the window & let your yestershine
in. We, too, exchange whole crops
of bright. You make the wind
worth swaying to. Here:
my ear-dip the brightest point
of the constellation you utter
with the wet of a tongue-
sized interstellar touch. You
bring out the sea in me, so wade.
Wade in this.
Last updated July 22, 2021