by Jeff Bien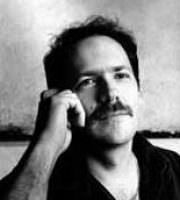 For Purdy
You were at the top of the world
where the high tides begin
foot-tangled in a thimble of moon,
the hatched song of the tiniest word
and that old squaw duck with her glockenspiel silences
pearling the long-tailed light.
Praising on your loom
the jeweled lichen and arctic flowers,
reeling the deathless bird song
hawking the wildest season.
Old bird, Old squaw, you sang
with a billy can of stars, dwarf willows
and spanless time. The stubby-eyed prairie tundra
lifted into the golden wheat in Christ's eye
the dog song of the Sabbath angel craning
from your hands.
Hung over in the whisky glass morning
the cabin fever of blue yoked to blue
that grew into orange sunsets
and flockless geese lost in the god-minded stone.
There in the jackstraw of colours
the sun's ropes like red garters
the snow daises and wedding frost
arrowed in the heel of night.
The toy sea, the church song of bees
the silk throwers with their broken winged gods.
Young night, first night, you chanted,
the snake rumour in you rhyming the days old
haggling with the fence straddling selves,
the high-winged logos and curling gondolas of snow,
the dog-eared blur of Faustian night
the onionskin largos that sheds its mighty sound.
You might find Jerusalem in the open air,
bone throwing miracles (winter turning the brown rabbit white).
The mewing letter of wordlessness
the horse-traders who lift their cups to that running emptiness,
wild combs of starlight, the colour of pea fowl,
in that jamboree of snow crystals and perfect light.
The blessed winter scholars
who made texts of its eyes,
and a singing bird
the ghost writer of their song.
(shortlisted for the 2010 Arvon Award, Great Britain, by Poet Laureate Carol Ann Duffy,)
Copyright ©:
Angels, beggars and scribes
Last updated January 23, 2013