by John Dryden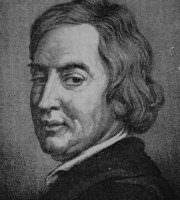 Fortune a Goddess is to Fools alone,
The Wise are always Masters of their own.
If any ask me what wou'd satisfie
To make Life easie, thus I wou'd reply.
As much as keeps out Hunger, Thirst, and Cold;
Or what contented Socrates of Old;
As much as made Wise Epicurus Blest,
Who in small Gardens spacious Realms Possest;
This is what Nature's Wants may well suffice:
He that wou'd more, is Covetous, not Wise.
Last updated November 20, 2022