by Joseph Auslander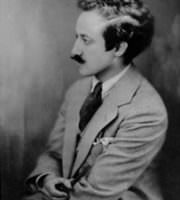 That time and place loom like a promontory
Which marked me manacled and branded so,
Love's hand upon my wrists and the bright blow
Of branding irons that made my pain a glory.
My heart, packed with his flame, like the soft fury
Of those dull moans my ears, my heart well know,
Is so ablaze, its very torments glow:
On these I live, my bitter golden story.
That single sun which burst upon my sight,
Burns with his blinding shafts my soul still taken
As in life's dawn, now no less in its night,
And from its heaven both heat and lustre waken
Its pulses: fresh and full, with no respite,
That place, time, torture leave the memory shaken!
Copyright ©:
This Poem is in the Public Domain
Last updated May 19, 2019