by Joseph Ignatius Constantine Clarke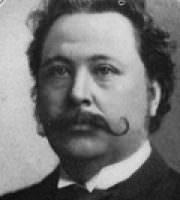 A calm white face, black eyes serene,
Dark tresses braided in a coronal,
Red lips pressed close till scarce the red is seen,
Is this, you ask, the picture of a queen?
There seated, one white hand upon the chair,
The other stretched atow'rd two men who kneel,
And raise it as one lifts a jewel rare.
If not a queen, she's surely proud and fair.
Aye, proud and fair, but in this House of Pain,
A needle broken in her finger-tip,
That needs the knife to cut away its bane,
She scarce will do with "queen" for a refrain.
Soon skill has plucked the steel away with steel,
And she, who winced not, smileless passes forth.
She breathes no thanks, yet they feel thanked who kneel.
Such majesty must sure have royal seal.
O dark-eyed Woman, whereunto you go,
There must you reign unquestioned as a queen
Who kindles rev'rence without pomp or show;
But what your kingdom, which of us shall know?
Nor silk attire, nor diamond-studded gold
May flash or rustle on your queenly breast,
But yours the fire was snatched from Heaven of old,
And yours the clay which but the great gods mould.
The fire that smoldered in Semiramis,
The form that Egypt's Cleopatra wore,
The lips that ransomed empires with a kiss
Red lips that quivered not at pain or bliss
All these are hers who silent went her way
Thro' city streets from out the House of Pain
A star from that far wonderland astray
Where beauty makes the morn and night and day.
Last updated January 14, 2019