by Josephine Miles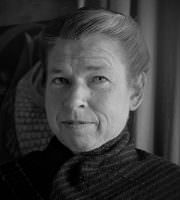 Polo is that gravy-look game,
Tough brushed out and thus adaptable,
Rare, but thick and springy,
Thought up as a grist well chewed by a good tooth.
The soppers of that gravy save all Sunday for it
And picnic at its bounds; they sit on Sunday papers
And pay no fee but the warning distant gasp
Of the multitude so good for a good pony.
Polo picks up an area of turf and takes it
Right down the lines, it biases the natural green,
It goals the very day, with evidence
Of practice flavoring that efficiency.
Riders have the watchers licking chops,
Not only in the pleased way of relatives and friends,
But in the ready gust of the professional eaters
Taking the taste up deftly from a distance.
Gravy, gravy of the haunch and flexion
Sliding and righting, at a chewable degree
Soaks down the Sunday aft in a feast for the breadwinners,
The breadwinners winning it all up deep to saturation.
From:
Collected Poems 1930-83 (1983)
Copyright ©:
1983, University of Illinois Press
Last updated February 11, 2023