by Karl Shapiro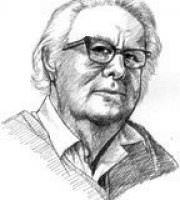 That note comes clear, like water running clear,
Then the next higher note, and up and up
And more and more, with now and then a chord,
The highest notes like tapping a tile with a hammer,
Now and again an arpeggio, a theme
As if the keyboard spoke to the one key,
Saying, No interval is exactly true,
And the note whines slightly and then truly sings.
She sits on the sofa reading a book she has brought,
A ray of sunlight on her white hair.
She is here because he is blind. She drives.
It is almost a platitude to say
That she leads him from piano to piano.
And this continues for about an hour,
Building bridges from both sides of the void,
Coasting the chasms of the harmonies.
And in conclusion,
When there is no more audible dissent,
He plays his comprehensive keyboard song,
The loud proud paradigm,
The one work of art without content.
Last updated May 24, 2019