by Kendrick Smithyman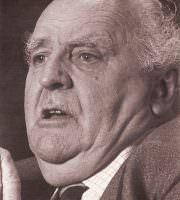 Kendrick Smithyman
… Jesu, Jesu, the mad days that I have spent! and to
see how many of mine old acquaintance are dead!
Silence: We shall follow, cousin.
Now through tatty Memory's fingers
pass out sorrows, shred out angers.
Everything is passing. Go,
indignations. Go, dangers.
All temptations, get and go,
may those years be buried deep.
What scrap of trivia should you keep?
Let no recollection show.
Pray Gunner Silence your companion
at the Battery Reunion.
Last updated January 14, 2019