by Kendrick Smithyman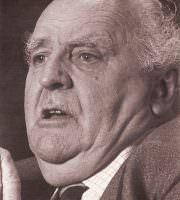 Kendrick Smithyman
Sea mist, a skyful of breakers landward.
Colonists deliberate a contended shore.
Petrel beat between headlands where no more
Named dangers stand on watch. What goes hard
Has still to be found, passage through the Range
To high country grazing, flats moderately rich.
Perhaps rivermouth calm promises a flash
Dividend? Also it suffers, of sea change.
Should the Old Man treat you well? He will sit
(You with a full house) on four cards himself.
You may as well learn, your deck is stacked. Mad wit
Plans to outbid you, by surge, by larrikin gulf.
Winner take all. You, sorry, do not win.
Desolation's water looks fine. Go on in.
Last updated January 14, 2019