by Kendrick Smithyman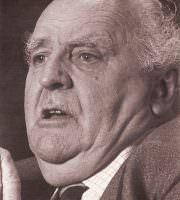 Kendrick Smithyman
Across your deadwater
distant is not so far.
Ferry that shallow flat;
one shore beyond makes clear
a prospect, simple nature
not tricked out, just right.
Upharbour I watch step
by step advance a prim taut ship
from anti-sub patrol.
One century gone each island
agrees what is meant by fear
is more than agitating
of tired nerves. A cruder
cause lies north. I stand
as other men, debating
what has outrun argument.
Violent in his ascendant
Mars, climbing, mocks a fool.
We pay for folly now
in small arms' ignominy,
where few find their vocation
sweat out our stint of duty.
The latest highlands glow
in detail; slow, expressing
no regret for your condition,
they yield, a murky easing
in time we cannot kill.
Last updated January 14, 2019