by Robert Laurence Binyon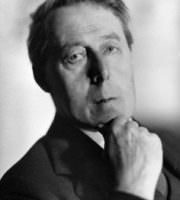 Tremulous out of that long darkness, how
Wast thou, O blossom, made
Upon the wintry bough?
What drew thee to appear,
Like a thought in the mind,
Ignorant, unafraid,
And perfect?--Yet the wind
Blew on thee how sharp! how drear
The drops fell from the sudden--clouded spring!
Those delicate rare petals, all storm--thrilled,
Shone into recollection, when my ear
From a half--opened door was filled
With a voice singing; floating up to sing
A song, long ago from a heart's darkness born
And upon young lips born again;
A voice, flowering clear
In beauty stolen from the world of pain.
Ah, not to--night of beauty I thought,
Yet beautiful beyond all hope's desire,
O wonderful, more wonderful to me
Than any miracle of beauty wrought
Was my Love's voice, saying beside the fire,
Where she leaned by my knee,
Dear, broken words; words of no art,
And yet in them was all my want, I found;
Life has no more to give than that sweet sound
Breaking and melting deep in my heart's heart.
Last updated January 14, 2019