by Robert Laurence Binyon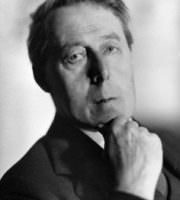 Hast thou not known them, too, these moments bright,
Rare moments, such as came to me but now,
On this clear, breezy evening, when the light
Flows through the orchard's tossing leaf and bough,
As though beyond their lifted screen the breeze
Would open magic visions of the Hesperides?
Hast thou not felt a strange, arresting sense
Charm thee with wonder, fill thee unaware;
A sense of something, come thou know'st not whence,
Invisible new beauty in the air,
Wings in the light, or glory in the wind,
Make the heart throb, illumine the enchanted mind?
Ah, what an exaltation of the breast!
Ah, what a radiant clearness of the brain!
Easy it seems to find and choose the best;
Thou know'st what thou must do, the path is plain;
And read'st the riddles that beset thy soul;
While to purged eyes the mysteries of the world unroll.
But O what quick relapse! the moment come
Unrealised departs: 'tis faded quite.
Only the garden greets thee of thy home;
Only the green trees wave in the still light.
Again with puzzling brow thou stand'st alone,
With the remembered dream of light and glory gone.
Last updated January 14, 2019