by Robert Laurence Binyon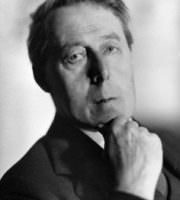 Isles of the Aegean, Troy, and waters of Hellespont!
You we have known from of old,
Since boyhood stammering glorious Greek was entranced
In the tale that Homer told.
There scornful Achilles towered and flamed through the battle,
Defying the gods; and there
Hector armed, and Andromache proudly held up his boy to him,
Knowing not yet despair.
We beheld them as presences moving beautiful and swift
In the radiant morning of Time,
Far from reality, far from dullness of daily doing
And from cities of fog and grime;--
Unattainable day--dream, heroes, gods and goddesses
Matched in splendour of war,
Days of a vanished world, days of a grandeur perished,
Days that should bloom no more.
But now shall our boyhood learn to tell a new tale,
And a new song shall be sung,
And the sound of it shall praise not magnificence of old time
But the glory and the greatness of the young.
Deeds of this our own day, marvellous deeds of our own blood;
Sons that their sires excel,
Lightly going into peril and taking death by the hand;--
Of these they shall sing, they shall tell.
How in ships sailing the famed Mediterranean
From armed banks of Nile,
Men from far homes in sunny Austral Dominions
And the misty mother--isle,
Met in the great cause, joined in the vast adventure,
Saw first in April skies
Beyond storied islands, Gallipoli's promontory
Impregnably ridged, arise.
And how from the belly of the black ship, driven beneath
Towering scarp and scaur
Hailing hidden rages of fire in terrible gusts
On the murdered space of shore,
Into the water they leapt, they rushed and across the beach,
With impetuous shout, all
Inspired beyond men, climbed and were over the crest
As a flame leaps over a wall.
Not all the gods in heaven's miraculous panoply
Could have hindered or stayed them, so
Irresistibly came they, scaled the unscaleable and sprang
To stab the astonished foe,
Marvellous doers of deeds, lifted past our imagining
To a world where death is nought!
As spirit against spirit, as a liberated element,
As fire in flesh they fought.
Now to the old twilight and pale legendary glories,
By our own youth outdone,
Those shores recede; not there, but in memory everlasting
The immortal heights were won.
Of them that triumphed, of them that fell, there is only now
Silence, and sleep, and fame,
And in night's immensity far on that promontory's altar
An invisibly burning flame.
Last updated January 14, 2019