by Robert Laurence Binyon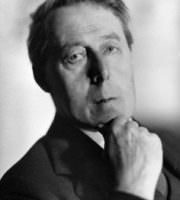 I
To a bare blue hill
Wings an old thought roaming,
At a random touch
Of memory homing.
The first of England
These eyes to fill
Was the lifted head
Of that proud hill
As lion--fronted
Alone it warded
The vale, and the far
Bright West regarded.
Who knows what wells
Are a child's unthinking
Eyes? What skies
Thro' the clear of them sinking
Have for ever coloured
A mind that springs
From buried hope, dumb prayer,
Prized small things
Precious to dust that once
Throbbed in hearts, now
Crumbled, where ignorant
Passes the plough?
II
I have walked by streams
In shadowy places
Where wild--rose June
With the moon embraces,
And smelt the magic
Of dew--drenched herbs
In a hush that trances,
Delights, disturbs.
I have roamed in a frail mist's
Filtered gold
The Downs, so cleanly
And smooth and old.
I know how the shower--light
Touches gray spires
In the slumbrous bosom
Of the elmy shires;
And lying on warm thyme
Watched at the sheer
Black cliff the grand wave
Lunge and rear,
When the whole Atlantic
Amassed recoils
And in indolent thunder
Bursts and boils.
I have followed the Romans'
Wall that wound
Over lone moors, leaving
The Druid mound
In the secret hills
Where the lost race lies,
Dreaming the dream
That the world denies;
A dream that the voices
Of England have sung,
That is born in the blood
And the eyes of the young.
III
O English earth
'Mid the blown seas lying
Green, green,
When the birds come flying
Out of the empty south
To the old willow,
Ash, thorn, chestnut--
Boughs that they know--
Sweet, sweet, sweet to be
Back in May bowers
When the grass grows tall
Round the English flowers.
O the light on tost clouds
As you take to your breast
Your stormy lover,
The strong South--West,
That breathes a wild whisper
In youth's thrilled ear,
Of strange things, of far things,
Of glory and fear!
But the things that are dearest
You have told them never;
They are deep in our veins
For ever and ever;
They come over the mind
When the world's noise is still
As to me comes the vision
Of one blue hill,
Beautiful, dark,
And solitary,
The first of England
That spoke to me.
Last updated January 14, 2019