by Robert Laurence Binyon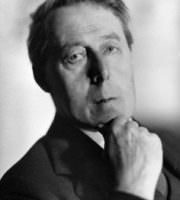 Deep in these thoughts, more tender than a sky
Whose light ebbs far as in futurity,
Deep, deeper yet my blessed spirit steep,
Singing of you still; you and only you
Gave me to breathe and touch and taste, all true,
Love from the utmost height and deepest deep
In my own heart, as all that summer knows
Of glory and perfume hides in one shut rose.
You and you only gave me, Dearest, this,
A pressure of the hand, a silent kiss,
And all is well; the hurt, the pain--pricks healed;
And rapt and hushed, as from some green recess
Into a golden solitariness,
All ours, we look; and suddenly revealed
Is all that we in our desire might be,
Winged and immortal, fretting to be free.
Then in that large, appeasing air we grow
Near to Love's greatness, and our hearts outflow.
We are as those who traffic with the sea;
Washed from our liberated spirits is all
That the feared world made stagnant, pent or small,
For love has touched us with his majesty:
We grow beyond the bounds of time and pain,
Then in one heart--beat wondering meet again.
Last updated January 14, 2019