by Robert Laurence Binyon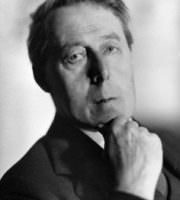 There is threat in the wind, and a murmur
of water that swells
Swift in the hollow: about me
a shadow is thrown;
For above is no valley sequestered
in shy, green dells,
But abrupt, sky--closing, a wall
and a vastness of stone.
Did the rock split asunder with ages?
or suddenly smote
The hand of a God on the mountain?
for under the face
Of the imminent height, at the humid
and cold rock--base,
From out of the dungeoned recesses,
the cavernous throat,
Disimprisoned there bursts, not a rill,
not a trickle of spray,
But broad in its gushing and full
and sweeping apace
A river arisen that dances
in laughter away.
Builded aloof; unscaleable;
towering stark
To the fugitive cloud and the blue,
O Soul of the Rock!
Silent, remote as the moon,
that will'st not to hark
To the cry of the lamb on the precipice
lost from the flock;
If thou suffer the pine in thy cranny
that dizzily clings
Small--seen as a fern, or a thicket
of obstinate thorn,
'Tis disdain that neglects them, O rather
a scorning of scorn,
Unheedful of them as of those
irresistible springs
Gushing out from beneath thee, unheard
as the cry of the bird
That skims from the shadow and hovers
a flashing of wings
Mid the flush and the greening of April,--
thou standest unstirred
As a desert uplifted, a desert
where bones rot and bleach,
As a barrenness knowing not change
nor date nor event,
As a strength without speech, without motion,
yet stronger than speech;
A bulk without feature, a winter
of force long spent;
And neither is hope, nor terror,
nor weakness there,
But a pressure and weight of oblivion
where no man is known,
Nor feature from feature distinguished
but all overthrown;
page
Like the rampart of Time that confronts us
enormous and bare,
Immuring the dream and the vision
whereby we have breath;
Like Night and the end of the light
to them that despair:
I stand in thy shadow and fear thee,
thou greatness of Death!
Come away, come away! There is light
in the water that glides;
Come away with the water that hastes
from the heart of the hills,
A sinuous ripple that sings
and that nowhere abides,
But broken, a murmuring sparkle,
on ledges and sills
Of the rock, as it swerves, carries in it
a wavering fire,
Like a thought, like a joy, that no barrier
stays from its flight,
Or a dance of young children that carol
their heart of delight;
For it calls to the bud to burst open,
the blade to thrust higher;
To my heart, to my heart, it is calling
``O follow! for here
Is thine own spirit, quick and enamoured
of love and of light;
O follow my swiftness and stay not
in shadows of fear!''
On beds in the valley, on sunny
half--islanded banks,
Where roots are athirst and refreshed
and saplings grow bold
Bowing their youth to the breezes
in quivering ranks,
Primroses, a cluster of softness
and fragrance, unfold;
And the fairy anemone, shaking
her blossoms agleam--
They are kisses of light as they tremble
to touch and to part--
Is flushed, ah! how faint, as with fire
from the innermost heart
Of a world in whose veins is a laughter
as clear as the stream:
And the music upholds me, enchants me,
and borne like a wave,
I am melted, I flow, I am nought
but a hope and a dream,
And in me is the youth of the flowers,
and grief in her grave.
Sudden a gust flings a shadow!
and shivering, the black
Driven leaves at the roots of the oak--tree
are whirled up and lost
Like the wild thoughts of fear into darkness,
and strong boughs crack,
And a gloom rushes down with a wailing,
and out of it tossed
Pale snow is outshaken, and hail
drops icily keen
On young leaf and dead; and awakened
in tree--tops aloud
Is the roar of the storm that has gathered
the hills in a shroud
Until naught of the towering rock
but in glimmers is seen,
A vision unfeatured, a phantom
of terrible birth:--
Is it thou that appearest, a presence
divined in the cloud,
Thy ribs and thy knees and thy breasts,
O Titaness Earth?
Is it thine, the great voice that confuses
the winds and the floods
In a meaningless cry as of madmen,
a blindness of wrath,
Smiting the bosses of oak
and the virginal buds,
Negligent where thou hast beaten
thy desolate swath?
O thou, who hast armed as for battle
thy creatures wild
With fierceness of claw and of fang,
of hoof and of horn,
From thee, even thee, from thy heart--beat
was man, too, born
With flesh like a flower defenceless?
is he thy child?
In whose eyes are wonder and trouble,
who strikes, yet the wrong
He has done he turns from again
and with sorrow is torn:
How shall his heart be as thine
or in thy way strong?
For who that is born of a woman
has known not the hour
When the spirit within him is daunted
and this world comes
As an army against him, a terror
of alien power,
And fate, too vast to be borne,
his courage benumbs?
Lost he seems as a child
upon mountains alone.
Who has longed not then with longing
for a strength past pain
To endure the rending of sorrow
that makes hope vain,
To be kneaded in iron and stubborned
in armour of stone?
That hour when the heavens are shaken
within the mind,
And the world is an enemy armed,
have I not known?
For the strength of the stony mountain
have I not pined?
But lo! on a sudden, with sighing
the storm ends now
In a radiant relenting: golden
the light reappears
With a glory of drops that are dancing
on leaf and on bough;
And a music, a wandering music
returns to my ears.
From the primrose is breathing a freshness,
and wild, shy smells
From the moss, where the snowflake is melted
to dazzling dew,
And the voice of the birds on the banks
is uplifted anew
To the carolling voice of the river
that onward swells.
Onward away, where the buds
gleam white on the tree!
The rain and the gloom are forgotten
in heaven's young blue;
And my heart flows out with the river,
the river with me.
In a trance, in a trance I listen;
and into my soul,
As it draws far back to a stillness
darkly stored
With infinite sound gather
and gradual roll
The voices of all the torrents
on earth outpoured.
``We tarry not, rest not, sleep not,''
aloud they cry,
``We are swift as the hours that crumble
thy strength into dust;
We build thee no home, nor a fortress
wherein to trust;
But in us is the sound of dominion
falling from high,
And the kings of the world dethroned
and towers laid bare.
We move, we are ever beyond;
we change, we die;
We laugh, we live; to follow
wilt thou, too, dare?''
How shall I not go with you,
O waters swift?
Too long in yesterday's self
I tarry, and keep
The dust of the world about me.
Uplift, uplift,
Lose me, a wave in the waves
that laugh and leap!
Lo, into uttermost time
my thoughts I send:
And because in my heart is a flowing
no hour can bind,
Because through the wrongs of the world
looking forth and behind,
I find for my thought not a close,
for my soul not an end,
With you will I follow, nor crave
the strength of the strong
Nor a fortress of time to enshield me
from storms that rend.
This is life, this is home, to be poured
as a stream, as a song.
Last updated January 14, 2019