by Robert Laurence Binyon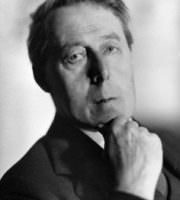 Come, let us forth, and wander the rich, the murmuring night!
The shy, blue dusk of summer trembles above the street;
On either side uprising glimmer houses pale:
But me the turbulent babble and voice of crowds delight;
For me the wheels make music, the mingled cries are sweet;
Motion and laughter call: we hear, we will not fail.
For see, in secret vista, with soft, retiring stars,
With clustered suns, that stare upon the throngs below,
With pendent dazzling moons, that cast a noonday white,
The full streets beckon: come, for toil has burst his bars,
And idle eyes rejoice, and feet unhasting go.
O let us out and wander the gay and golden night.
Last updated January 14, 2019