by Robert Laurence Binyon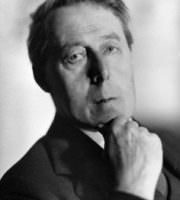 He stands on high in the torch--glare,
With planted feet, with lifted axe.
Behind, a gulf of crimsoned air;
Beneath, the old wall that gapes and cracks.
Tossed fragments crash to dust and smoke.
Exulting life, aloft he stands
And drives his unrepentant stroke,
Nor heeds the havoc of his hands.
Below, one lingers gazing. Why
Within his heart does secret joy
Quivering awaken and reply
To each home--blow, Destroy, destroy?
Lulled in the casual feast of sense,
Awed by the ages' fortress--walls,
Out of its slumber roused, intense,
To the swung axe a demon calls,--
Man's Demon, never satiate,
That finds nought made to its desire;
How shall it to this world be mate,--
To a world of stone, a heart of fire!
Last updated January 14, 2019