by Robert Laurence Binyon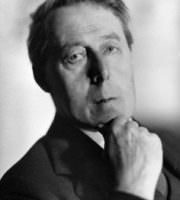 Gray the slow sky darkens
Over the downland track
Where the long valley closes
Under a smooth hill's back.
The slope is darkly sprinkled
With ancient junipers,
Each a small, secret tree:
There not a breath stirs.
I fear those waiting shapes
Of wry, blue--berried wood.
They make a twilight in my mind,
As if they drained my blood,
As if a spirit were prisoned
Within each writhen stem,
And no one knows their kindred
Nor what frustrated them.
Along the empty valley
Like a ghost go I;
My footsteps and my beating heart
Nothing signify,
Lost into nameless ages
That come, slow cloud on cloud,
From history's beginning
And all the future shroud.
Last updated January 14, 2019