by Louis Untermeyer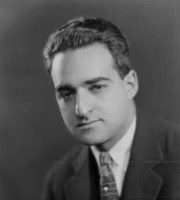 The brain forgets but the blood will remember.
There, when the play of sense is over,
The last, low spark in the darkest chamber
Will hold all there is of love and lover.
The war of words, the life-long quarrel
Of self against self will resolve into nothing;
Less than the chain of berry-red coral
Crying against the dead black of her clothing.
What has the brain that it hopes to last longer?
The blood will take from forgotten violence,
The groping, the break of her voice in anger.
There will be left only color and silence.
These will remain, these will go searching
Your veins for life when the flame of life smolders;
The night that you two saw the mountains marching
Up against dawn with the stars on their shoulders;
The jetting poplars' arrested fountains
As you drew her under them, easing her pain;
The notes, not the words, of a half-finished sentence;
The music, the silence. . . . These will remain.
Last updated May 31, 2019