by Maria Mazziotti Gillan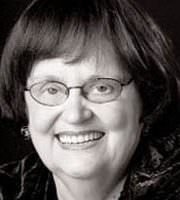 Panic in your face, you write questions
to ask him. When he arrives,
you are serene, your fear
unbetrayed. How unlike me you are.
After the dance,
I see your happiness; he holds
your hand. Though you barely speak,
your body pulses messages I can read
all too well. He kisses you goodnight,
his body moving toward yours, and yours
responding. I am frightened, guard my
tongue for fear my mother will pop out
of my mouth. "He is not shy," I say. You giggle,
a little girl again, but you tell me he
kissed you on the dance floor. "Once?"
I ask. "No, a lot."
We ride through rain-shining 1 a.m.
streets. I bite back words which long
to be said, knowing I must not shatter your
moment, fragile as a spun-glass bird,
you, the moment, poised on the edge of
flight, and I, on the ground, afraid.
Maria Mazziotti Gillan
Copyright © 1995
Last updated May 02, 2015